STAY AWAY FROM ONLINE DATING! - EOPC

Con artist uses Marine's identity to scam women
By Kimberly Johnson
Wendy McKay thought she had met someone special when the Marine colonel deployed to Iraq started chatting with her on the online dating Web site.
Someone claiming to be Col. Richard Bartch told her he was in Iraq for the first time after volunteering for duty. And like her, he was divorced. Chats quickly led to e-mails and within a day he sent her photos of himself in uniform.
In one, he stood in his woodland digital-patterned utilities, proudly holding up his Bronze Star citation and medal. In another, he's lounging in desert cammies in a chair, with his service pistol holster pulled taut across his broad shoulders just next to his name tape.
His e-mails were romantic, echoing the sentiment of a schmaltzy Hallmark greeting card:
"I went to sleep last night with a smile because I knew I'd be dreaming of you ... but I woke up this morning with a smile because you weren't a dream," he wrote to the 52-year-old British woman Oct. 21, just one day after they made introductions online. "Though miles may lie between us, we're never far apart, for friendship doesn't count the miles, it's measured by the heart."
The e-mails quickly picked up intensity.
"[T]he feeling is getting stronger and stronger," he wrote the next day, Oct 22. "... think it will not be hard to LOVE you huh!"
By Oct. 23, his e-mails reflected he was sure it was love.
"You awakened a part of me that had lay [sic] dormant all of life. [A]lthough [I] had loved and been loved before, never had it been so intense and so deep as what we feel for each other. [T]his much [I] am sure of, we share a love so true that [I] have never before experienced the true joy of complete empowering, soul-felt love as we share," he said.
McKay almost bought it. That is, until she realized doing so was really going to cost her.
Bartch — or more accurately, the con artist who had stolen the identity of the real Marine officer, from a family-oriented military Web site — wanted her to send him $5,000.
Red flags
On Oct. 20, McKay logged onto a U.K.-based dating Web site, "when I was contacted by a person who seemed to like me and we started to chat," she said in an e-mail, explaining the initial encounter. At the man's request, she gave him her e-mail address so they could exchange pictures.
"He sent me [four] photos and he told me he was called Colonel Richard O. Bartch and was a retired USA Marine," she said in her e-mail to Marine Corps Times. "These pictures were of himself and some of his family when he returned from Iraq and another one was of one of his sons who is also a Marine."
The photo exchange gave way to a feverish wave of online chats. Some of the photos were older and predated his divorce, he told her, in an effort to explain away the wedding ring he was wearing in some of the shots.
He had three sons, the fake colonel said. Two were natural born, but the middle child — Albert — was adopted after his mother, a Spanish neighbor who lived down the street, died suddenly when he was nine years old.
"The story was so intricate," she said, in a phone interview from Peterborough, England.
The fake colonel was having trouble contacting Albert and was concerned about him, he told McKay, explaining that a military security regulation prevented him from making or receiving calls from Iraq. He asked her to call Albert on his behalf to check on his welfare, and gave her a phone number with an area code for Atlanta, which he said was his hometown.
McKay called.
Recalling the brief conversation, she said the young man who answered the phone had a thick foreign accent — presumably to corroborate the story of a Spanish mother. He sounded as if he was in his early 20s, she said. In hindsight, McKay now believes he was the scammer himself.
"I think he wanted to see how I'd fallen for it," she said.
There were other red flags, from the beginning, McKay noted, such as mistakes in grammar and military references. In an early e-mail explaining photos of his sons, Bartch wrote: "Nathan and her mum welcomed me when [I] went back to the states ... and that's me with the bronze reward."
Other clues were more subtle. During a chat session, she sensed he was carrying on more than one conversation at the same time. Another time, he told her he had to go out into the field, but asked her to wait. He was only away from his computer for a short time before he returned. To McKay, who once was married to a man in the Royal Air Force, the brevity of his trip "to the field" seemed curious.
On Oct. 30, however, he confided in her that he needed her help urgently. He was in the process of packing up to leave Iraq, but somehow his bag had been intercepted in Ghana. His "diplomatic tag" had run out; he couldn't pay to renew it while in Iraq and needed £2,500, about $5,000, she said.
"The minute he said that, I logged off," she said,

realizing it was a scam.
"He asked for the money

in pounds," and not in American currency,

she said. "He said 'I'll pay you back when I come and see you.'"
Seeing red
McKay is not the only woman the faker tried to dupe, but she wants to be the last. She gave copies of the e-mails and the Atlanta telephone number to U.S. military police based in the U.K. and sent a letter to the Marine Corps.
"I wanted [Bartch] to know that someone is impersonating him, and how easy it is," McKay said.
The photos of the real Col. Richard Bartch are believed to have been copied from the Web site MarineCorpsMoms.com, said the site's founder, Deborah Conrad. It's a Web site focused on family morale during military deployments.
Attempts to reach the fake colonel for comment, using both his e-mail address and the Atlanta-area telephone number, went unanswered.
"He has posted under this identity on at least four different dating sites that I am aware of,"

said Conrad, who launched MarineCorpsMoms.com in 2004, when a friend deployed to Iraq for the second time.
"I first learned of this a few months back when a woman contacted me to let me know that she had been corresponding with a man she met through an online dating service and had become suspicious when he told her he had a son who was a [sergeant] in the Navy," Conrad said in an e-mail. "[Whoever] it is, he doesn't do a very good job of military customs and courtesies."
The original photos of the real Bartch were given to Conrad for the Web site by his wife, Mary Helen Bartch, when he was deployed to Iraq in 2004, Conrad said. The recent misuse of Bartch's photos is the only instance Conrad's aware of where material found on her Web site has been used for a scam, she said in a phone interview.
"I don't know of any way to stop things like this from happening, other than to never post anything to the Web," she said.
"One of the things I want my Web site to do is share the successes of wonderful things Marines are doing around the world," Conrad said. Adding layers of protection, such as locking the personal photos to prevent copying, wasn't something she had thought she would need to consider.
The whole point of the site is to share, she explained. Some Marine families, for example, have seen photos of their loved ones on deployment for the first time on her site, she added.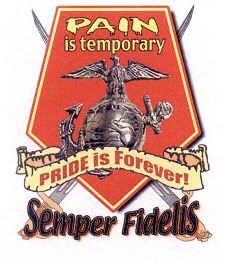 Tall tales
The real colonel has heard several of the wild stories, the adventures concocted in his name that also lured in women from Denmark and the state of Georgia.
"Supposedly I had saved a diplomat," and there was a suitcase with $5 million in reward money waiting for pickup somewhere in Africa, Bartch said in a telephone interview. One woman was preparing to travel to Africa to pick up the money, Bartch said. The impostor told another that his son had been injured, prompting mounting medical bills, and that the impostor needed money for travel expenses.

"It's a pure Nigerian scam, and unfortunately I got involved with my name in it," Bartch said.
Marine Corps officials notified Bartch, who they say is listed as being in the Individual Ready Reserve and living in Spokane, Wash., who then notified his banks and law enforcement officials, including the FBI, as a precaution.
The nature of the identity theft — only a name, and a handful of personal photos — limited his options.
"No one can do anything about it. Just because the guy's using my name, there's not any real recourse," Bartch said. "It is a violation, but it's not like being broken into."
After word of the scam emerged, Conrad removed Bartch's photos from the site and things have quieted down.
"I would like to see it dropped," he said.


Liar, liar
While Marine impersonators are not new, the case highlights a unique area where the persona — and not the personal information, such a Social Security number — of a real person was used in the attempt to scam money.
Hard statistics about online fraud remain vague, but online digital identity theft is on the rise, said Marsali Hancock, president of the Arlington, Va.-based Internet Keep Safe Coalition.
There are simple ways to help guard against online identity theft, she said.

Don't post a person's name below photos. Use privacy settings on social networking sites, such as MySpace and Facebook.
"The Internet is forever," Hancock said. "Whatever you post, you can never fully remove. Once you put your picture up [on the Internet], it's up there and you lose control over it."
Internet postings pose potential risk for those in the military, she added.
"It seems like military officers could be at risk because the information they share with their families might not be information that they'd want to share with the world," she said. "It puts their family at risk," as well as themselves, she said.
That's not to say military morale Web sites and blogs should go silent — they should just try to be a little more savvy, she explained. "They can share good news without sharing specific names," Hancock said.
McKay said she has learned a valuable lesson, but admitted the incident has been a setback. The divorcee of six years said she had only resumed dating within the last couple of years.
"Women are on that [dating] site because they're looking for a partner, they're looking for a relationship," McKay said.

"[Scammers] think women on there are divorced, got a good settlement off their husbands and have got money to play with."
She is no longer using the online dating site.
"I'm very, very wary," McKay said. "I don't know if I could trust them again."
SOURCE
OTHER MILITARY PHONIES WE HAVE COVERED:
Phil Haberman
Nathan Ernest Burl Thomas, Jr.