Brazilian police are hunting a blogger who claims to be waging a lone crusade against unfaithful wives.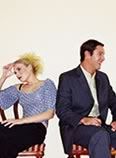 The man, from a small rural town of Lagoa da Prata, in Minas Gerais, has so far p

osted the name of 300 supposed cuckolds on a popular social networking site.
Copycat lists including one entitled 'The cuckolds of Lagoa da Prata' have also emerged, according to the Guardian.
Some victims have spoken out to reject the accusations.
One unnamed man said: 'My wife is a Catholic and a worker. I have never had cause to doubt her.'
Another woman confessed she had nearly split up with her partner after his name appeared on the list.
In 2004 a study by a Brazilian psychiatrist claimed the state of Minas Gerais had one of the country's highest rates of infidelity among women.
Of the women interviewed as part of the study,

nearly 30 per cent admitted to having had an 'extra' relationship.
Police officer Lieutenant Marcondes Couto said: 'The military police are advising people to stay calm. We are investigating and we will catch this criminal. Justice will be done.'
One suspect has already been questioned after he was allegedly spotted leaving a copy of the list in a local bank.
original article here