More & more reasons to NEVER USE ONLINE DATING!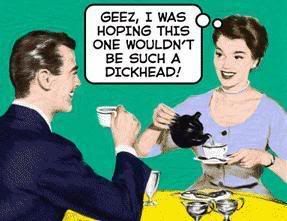 DIRECTORS of a dating website engaged in misleading conduct when they created fake profiles and sent messages to users to flirt with them, a consumer watchdog says.
The Australian Competition and Consumer Commission said it had started Federal Court proceedings against Jetplace Pty Ltd, the operator of the website www.redhotpie.com.au.
The consumer watchdog alleged

Jetplace engaged in misleading conduct when it created and published fictional dating profiles on its website

, which targets single adults.
Jetplace allegedly used the fake profiles to send "flirt" and other messages to registered users.
The company engaged in misleading conduct

by giving representations that each profile on the website was created by registered members, the watchdog said.
It said the company had misled people when it said every profile on the website and every message received from a profile provided an opportunity for members to socialise with and potentially meet the member that sent the message, when that was not the case.
The ACCC has alleged Jetplace directors Mark Semaan and Maxwell James McGuire, were knowingly concerned in and party to the misleading conduct.
The watchdog said it would seek declarations, injunctions, orders and costs from Jetplace.
A directions hearing on the matter has been set down for December in the Federal Court.
Mr Semaan told AAP on Friday Jetplace had been aware of the ACCC's allegations for more than a year and had co-operated fully with the inquiries.
The company defended the use of the profiles, which it said helped to stop illegal activity, predatory behaviour and scammers.
"The central matter of concern to the ACCC was the use by Redhotpie of monitoring profiles," Mr Semaan said in a statement.
"These profiles were used as part of the site's User Security Suite (USS) which successfully assisted in the detection and action against illegal activities, predatory behaviour and scammers on the website."
The number of monitoring profiles on the site was very small, would have been of minimal inconvenience to bona fide members and had been voluntarily deactivated since the ACCC raised its concerns almost a year ago, Mr Semaan said.
He said the site was a successful online community and members had found soul mates, become engaged, married or

enjoyed satisfying casual encounters

.
(isn't that PROSTITUTION?)

original article here