Perhaps the most commonly recognized and deserved disadvantage of online dating is

the propensity for dishonesty.

There is an abundance of stories about e-liars, commonly involving six months of dating ending with the realization one of the two is married. Even more begin with sexy photographs which turn out to be taken prior to a major weight gain, tooth loss, or all-over body tattoo.

Wendy Tanaka tells the story of a man whose online interest described herself as looking like actress Renee Zellweger. Before getting together, she revealed that she was actually "an older, less pretty version of Renee Zellweger." In one last e-mail before getting together, she said she'd "once been described as looking like John Denver".

Users aren't the only liars online. Online dating sites are also caught in fibs from time to time. On November 28, 2002, an article in The Spokesman Review detailed a lawsuit (on behalf of a user whose identity was kept a secret) accusing

the site INeedANewGirlfriend.com of lying in order to get newly registered users to buy subscriptions. The lawsuit says that bogus e-mails with photos of beautiful women were sent to men asking them for a reply or for a date.

Once the men paid their membership fees and e-mailed the women, they never heard back. The article continued on, explaining:
To prove his client's contention, the lawyer concocted a handful of cyber straw men -- false profiles of men he believed no woman would want to be involved with. They were the Internet's most ineligible bachelors, he said: hard-drinking, overweight, out-of-work men. Their goal, he stated in their profiles, was to meet rich, beautiful women who would support them.

The offers came rolling in.

The issue of deception online is more commonly aimed at users, however, than sites. It can be easily argued that profiles as a basis of online dating sites encourage dishonesty. For those eager to meet accepting partners, profile questions can be daunting. For instance, when signing up on Kiss.com, users are prompted to "Please describe your looks." Possible answers are limited to: ugly; not very good looking; average; good looking; very good looking; and stunning.

Another common question, that of annual income, is a good example of one that is easily exaggerated (or lessened to protect family funds!). With questions such as these, the ultimate goal of attracting interested parties may be threatened by honest answers. Profile questions are exceedingly open to interpretation.

In the end, while the Internet may make dishonesty tempting initially, should a relationship progress to actually meeting, truths will generally be revealed. Online culture seems to have established acceptable, even expected levels of misrepresentation.

(NEVER ACCEPTABLE!)

Comparable to fibbing on a drivers licenses, height and weight questions are less likely to deem one a dirty liar than, say, not revealing five children and a wife. Whether disclosure makes or breaks a relationship depends on the severity of the lie and the values of the judge.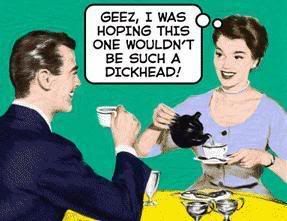 Ultimately, there is nothing fundamentally honest about meeting in-person either. Under the influence of alcohol and loud music, it is certainly easy for an unhappily married woman to remove a wedding ring before accepting a drink from across the room. Why are people tempted to misrepresent themselves when eventual meetings will reveal all anyway?

Morris at Udate.com believes that it comes down to human nature. "If someone is going to lie online, they'd do it offline anyway".

The human desire to increase one's standing among the competition is strong.

Technology does, however, lend help to those distrustful of the medium. Assuming that a correct name is acquired, the truly determined can visit the county courthouse and search for marriage licenses, divorce records and criminal histories (including felonies and domestic violence. Those with a minimum knowledge of using the Internet--and it's assumed that online daters qualify -- can do a few quick Google searches with a minimal amount of accurate information and foil liars early on.

(NOT ALWAYS!)

Generic online searches can reveal work and educational history among other things. The more cynical can access

"an abundance of public records, often free and easily accessible, that can tip off online daters to fakes".
WHAT ABUNDANCE OF PUBLIC RECORDS MIGHT THAT BE?
THERE'S NO NATIONAL MARRIAGE DATABASE or CENTRALIZED CRIMINAL DATABASE EITHER!
EOPC NEVER EVER RECOMMENDS OR IS O.K. WITH ONLINE DATING! EVER!
FROM THIS SITE