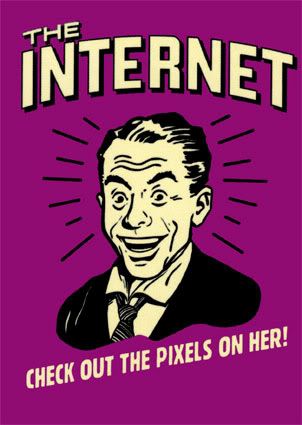 ANOTHER INTERNET PREDATOR (from 2005)
Here's a story
that came across my computer screen [in Fall 2005]... Dr. Khaled Zeitoun (
a fertility specialist -- doesn't he get enough female contact in his work?)
is being sued by two separate women he met on an Internet dating site. The problem?
He's a married man with three children. He told potential Sweeties that he was single
.
It'll be interesting to see what happens with these suits. I wonder whether the court will take them seriously. But again, it's more reasons not to lie about ANYTHING. People find out, one way or another, and as these ladies are proving, you could find yourself in court.
Doctor real strange love

By KERRY BURKE and HELEN PETERSON -- DAILY NEWS STAFF WRITERS

A Manhattan love doctor has been slapped with malpractice suits for breaking hearts.
Fertility specialist Dr. Khaled Zeitoun is a married father of three who allegedly left a trail of tears after taking to the Internet for some extramarital romance, according to court papers made public in September 2005.

Zeitoun, 46, is being sued by two women he met through an online dating service - and allegedly wooed with bizarre come-on lines invoking the Devil, tales of past lives and talk of the Apocalypse.

In lawsuits, Tiffany Wang and Jing Huang branded him a medical masher who pretended to be single to lure them into sexual relationships.

According to court papers, he may have been sweet-talking as many as six women at or around the same time.

"Zeitoun's conduct was part of a larger pattern in which he approaches single women on the Internet and becomes romantically involved with [them]," Wang, 46, charged in a complaint filed Wednesday in Manhattan Supreme Court.

Zeitoun's conduct "was outside the boundaries of human decency and societal norms," according to the lawsuit.

Wang is "very nervous about trusting people," said lawyer Avraham Goldberg, who represents Wang and Huang.

Zeitoun laughed off the claims yesterday when questioned at the W. 53rd St. love nest where, court papers say, he rendezvoused with his online ladies.

"I don't know of any lawsuit that woman has filed against me," he said, referring to Wang, but he conceded he knew her.

"Is she suing someone because he romanced other women?" he chuckled.

Wang's lawsuit is nearly identical to one filed in March by Huang, 32, who says she, too, met Zeitoun through the Yahoo! Personals, and that he told her he was single.

Their suits seek unspecified money damages for infliction of severe emotional distress.

According to court papers, Zeitoun told both women that he had been married to them in a previous life and had mistreated them. He said he searched for them in this lifetime to correct his past mistakes.

He even told Wang that he made a deal with the Devil after being "trapped in hell" for two days in which he promised never to marry - and if he reneged "the whole world would collapse," according to her suit.

Still, the suit claims, he cruelly asked Wang to marry him "only to see the look of joy on her face," though he had no intention of making her his bride.

Zeitoun saw the women simultaneously, unknown to them. He dated Wang from March 2001 until July 2004 and saw Huang from Oct. 2003 until July 2004, court papers say.

Huang learned accidently that Zeitoun was married - and when she confronted him, he said he was getting a divorce, she contends.

She also learned the names of five other single women, including Wang, who had allegedly been romanced by Zeitoun.

"He knew the damage he could do to these women and he did it anyway," said the women's other lawyer, David Grover. "They are both educated, professional women."

In court papers filed in May, Zeitoun admitted having relationships with several women on the Internet while pretending to be single - but he said he told Huang upfront that he had no interest in long-term liaisons.