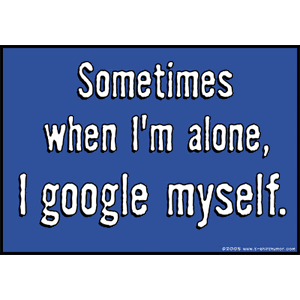 Instead of taking Google for granted,
we need to remember that criminals get the same easy access to information we get from a capable and quick search engine.


To see what the Internet knows about you, start by going to the Google site or by using the Google toolbar. Next, either type your name in quotations or, for a more refined search, type intext: (intext with a colon) immediately followed by your name in quotes. Now type your address or phone number, and Google may turn up a church or a social group directory listing. If this doesn't surprise or outrage you, type into Google your social security number or credit card numbers.
(You can also use metasearches such as Mamma.com, Dogpile.com or others)


So

never

put anything personal, such as your social security number on a resume, on the Internet, not even temporarily. Be careful about using the same nickname over and over - especially if you have posts on sites you'd prefer others don't see. Sites like Archive.org can have incriminating posts of yours cached for years.

And if you find such information on a cached Web page - find out how to get it removed and do so,

if possible. (google cache can be PERMANENT)
ORIGINAL POST