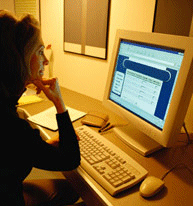 Cheating just got a whole lot harder.
In cyberspace, men enjoy the simple concept of cheating.

Men can be anybody they want. They can be a workout buff, a modern day Romeo or a Hollywood celebrity, as they cheat behind their girl's back, trying to zero in on one femme fatale that sure writes and talks like a Playboy bunny.
Hell, they can also be a drug-addicted rockstar and no one would care.
Men and their "female prey" will go online and enjoy flirting with each other,

letting their imagination run wild inside cyberspace.
Men can very well imagine that they're interacting with God's gift to sex and they won't have any idea whether the one they're talking to is indeed the hotness she is trying to portray or a miserable, obese, piece of crap with a face that looks like as if it was hit by a goddamn train.
Of course, their girlfriends and their wives won't know squat about their boyfriend's or husband's sexcapades as

these guys continue to shell themselves as handsome hunks

trying to get that piece of ass to bed. (The promised land.)
REST OF THIS POST:
CLICK HERE