Police Search For Craigslist Serial Rapist
Six Cases Possibly Linked In Maryland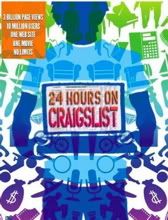 Police in Maryland said they are concerned that

a man who meets women on the Internet and then rapes them will strike again.
Police said

the man used Craigslist personal ads to meet and sexually assault several women.
Authorities said the man has raped at least six women.
Investigators said the man meets women through the online classifieds site, sets up a meeting and then rapes them, police said.
The attacker usually wears a ski mask and is armed with a handgun, police said.
Investigators said the victims were attacked inside different buildings in Temple Hills and Suitland.
The most recent incident happened on Tuesday. Police said they were called to the 9100 block of Baltimore Avenue in College Park by a woman who said she had been sexually assaulted.
Investigators said the woman told them she met a man online and agreed to meet at an apartment in Suitland.
When the woman arrived at the apartment building, a man was waiting in the hallway, police said.
The woman said she was raped at gunpoint, and afterward the man fled, according to police.
The investigation is ongoing.
ORIGINAL
~~~~~~~~~~~
Ohio man shot by woman he met through online dating service

, police say
A Mentor man is recovering from at least five bullet wounds after he was shot by a woman he met on an online dating site on Thursday night, police said.
Michael Kufrin, 19, is at MetroHealth Medical Center in Cleveland in serious condition with bullet wounds to his arm, knee and hip.
Eastlake Police Lt. Bill Gutowski said Kufrin met Leechelle Brown, 29, of Eastlake, on an Internet chat room and was supposed to go on a date.
According to police this is what happened:
Kufrin went to Brown's Vine Street apartment about 7 p.m. Thursday and she demanded he pay her $300.

She pulled out a gun, then forced him to take off his shoes and go to a local bank to withdraw the $300 from an A

TM.
They returned to her apartment and another argument followed and Brown emptied her gun.
Police recovered seven shell casings.
Kufrin knocked on several neighbors doors before someone called 911 for help. He was taken to LakeWest Hospital in Willoughby and later transferred to MetroHealth.
Police have not yet determined what chat room he met her on or why she demanded the cash.
Brown is in Lake County Jail and faces a felonious assault charge as well as other charges.
ORIGINAL